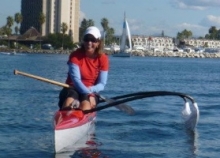 Carmen L. Cutter, MPH is the Co-Director for Active Living Research, based at the University of California, San Diego in the Department of Family and Preventive Medicine. Carmen oversees the development and implementation of multi-year initiatives that support and disseminate research on environment and policy strategies to increase physical activity and prevent childhood obesity. She is responsible for all operational and administrative functions as well as strategy development for the program. Carmen brings over 20 years of diverse experience in public health and program management. Prior to joining Active Living Research, she worked on binational health and research projects on the California-Mexico border. Much of her professional experience has focused on improving access to health care among Latino/Hispanic communities. Carmen holds a Masters in Public Health from the University of Texas Health Science Center in Houston and is bilingual in Spanish and English.
Why is physical activity important to me?
I am an ocean enthusiast and my physical activity of choice involves either outrigger canoeing, stand up paddle boarding, surfing or long walks on the beach. Being active, especially in nature, is both soothing and exhilarating and without it I feel incomplete.