Economic Benefits of Open Space, Recreation Facilities and Walkable Community Design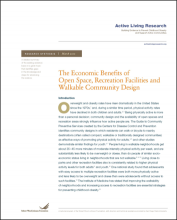 Author:
Lilly Shoup and Reid Ewing
Summary:
The Challenge: There is evidence that walkable neighborhoods and parks and open spaces can improve physical activity levels. The economic impact of these attributes can play an important role in policy makers' decisions about zoning, restrictions on land-uses, government purchase of lands for parks and similar initiatives.
Make an impact: In addition to providing opportunities for physical activity, recreation areas and parks located in metropolitan areas provide economic benefits to residents, municipal governments and private real estate developers.
What the findings are about: This research synthesis reviews research on the different ways that walkability, parks, and open spaces can bring economic benefits to a community.
Key Findings and Recommendations:
Walkable neighborhoods, parks and open spaces can generate economic benefits to local governments, home owners and businesses through increasing property values and related property tax revenues.
Open spaces such as parks and recreation areas can have a positive effect on nearby residential property values, and can lead to proportionately higher property tax revenues for local governments.
Compact, walkable developments can provide economic benefits to real estate developers through higher home sale prices, enhanced marketability and faster sales or leases than conventional development.
FACT SHEET:
An abbreviated fact sheet is available that highlights the research synthesis' main findings.
Suggested Citations:
Shoup L, Ewing R. Economic Benefits of Open Space, Recreation Facilities and Walkable Community Design. A Research Synthesis. Princeton, NJ: Active Living Research, a National Program of the Robert Wood Johnson Foundation; May 2010. Available from: www.activelivingresearch.org.
RECENTLY ADDED TOOLS & RESOURCES
Research Briefs & Syntheses
We are pleased to announce an exciting new alliance between Active Living Research and GP RED to co-host and coordinate...

The "Active Living Conference" aims to break down research and practice silos and...
August 14, 2018