How to Increase Bicycling for Daily Travel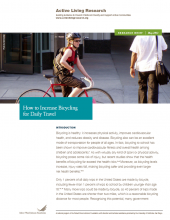 Author:
Jennifer Dill, PhD, Portland State University; Susan L. Handy, PhD, University of California, Davis; & John Pucher, PhD, Rutgers University
Summary:
The Challenge: Only 1% of all daily trips in the United States are made by bicycle, including fewer than 1% of trips to school by children younger than age 16. However many more trips could be made by bicycle, as 40% of trips made in the United States are shorter than two miles.
Make an impact: Recognizing this potential, many government agencies and public health organizations are starting to advocate for increasing bicycling as a way to improve people's health and reduce air pollution, carbon emissions, congestion, noise, traffic dangers, and other harmful effects of car use. Understanding the most effective strategies cities can use to increase bicycling is important.
What the findings are about: This brief summarizes the available evidence about strategies for increasing bicycling levels, including on-street bike lanes, off-street bike paths, and other bicycling infrastructure and educational programs, and offers related policy implications.
Key Findings and Recommendations:
At the city level, bicycling infrastructure is strongly associated with overall levels of bicycling, especially with bicycling to work, school, or shopping.
It is less clear what type of infrastructure is most effective at increasing bicycling for daily travel.
Marketing and educational programs, as well as regulations, also can affect levels of bicycling.
A comprehensive package of infrastructure, programs, and policies is likely to have the greatest effect.
Policies that make driving more expensive (e.g. higher gasoline taxes and parking fees) and less convenient (e.g. reduced parking supply and reduced speeds) may be necessary to maximize the effectiveness of infrastructure investments in encouraging bicycling.
To encourage bicycling as a mode of transportation, communities also must implement land use and development policies to help ensure that destinations for daily needs, such as school, work, and shopping, are within convenient bicycling distance from home.
Suggested Citations:
Dill, J., Handy, S.L., & Pucher, J. How to Increase Bicycling for Daily Travel. A Research Brief. Princeton, NJ: Active Living Research, a National Program of the Robert Wood Johnson Foundation; May 2013. Available from: www.activelivingresearch.org.
RECENTLY ADDED TOOLS & RESOURCES
Research Briefs & Syntheses
We are pleased to announce an exciting new alliance between Active Living Research and GP RED to co-host and coordinate...

The "Active Living Conference" aims to break down research and practice silos and...
August 14, 2018